Advertising Disclosure: This post includes affiliate links. For more information, please see our Privacy Policy and Disclosure.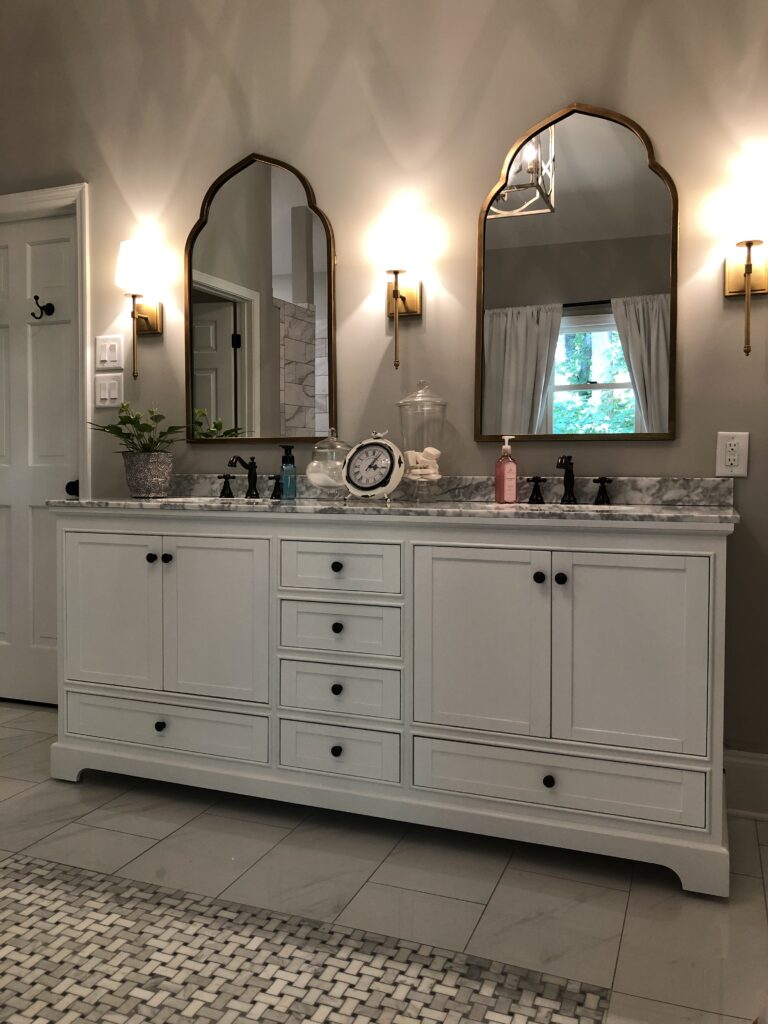 Who else loves to stalk Zillow and realtor.com for home listings? It can't be just me! For years now, we've talked about buying land and having "land and horses." We were always held back with nothing for sale or reasonably priced in our excellent school district. We loved our house and we loved our neighborhood too, and didn't want to leave the community.
For 2 years of that time, this house on 15 acres that we live in now sat for sale and empty for at least 6 months of that time. It said "well-maintained" but I beg to differ! It has "good bones" seems more appropriate. I saw it for sale in the perfect location- right outside the neighborhood in our growing area where large tracts of land are becoming rare. Every time I saw it, though, I prayed, "please, God, no!" because it needed SOOO much work. I am not kidding, and long story short, we got that house after 2 years of watching it sit on the market!
Gracious Space
I wake up thankful every day! It still needs so much work to bring it up to date and the exterior is not pretty (yet!), but these woods and trails on these 15 acres, the pasture we are building out front for the horses, and all of the beautiful nature and peace and SPACE we have now to move around- it definitely has my heart.
How to Create Your Perfect Master Bath Retreat
Before, I shared the master bedroom remodel– you can read about it here. Today I want to share with you our elegant master bath remodel. We took elements we liked from our last home's bathroom remodel and used it again, because we moved before we could really enjoy that room. Here are 5 Tips to creating your perfect master bath retreat!
5 Tips
Incorporate Items From Places You've Been Together – It really does bring back good memories of times we spent in different places. You should try it in your home! We added a tile rug like we saw in a hotel in North Carolina, and a chandelier we found in Florida. You can try to recreate what you saw or buy an item while you are there.
Choose Calming Colors and Décor – For the bathroom, we opted for no signs that we have to read or intricate photos of people. Instead, calming artwork, elegant sconces and mirrors, and muted colors.
Collect Design Ideas and Plan in Detail First – I love to look at designer magazines, pinterest and Instagram. Find styles you like and follow them. Mom's Priority has a full board of décor pictures on Pinterest from talented designers.
Find thick, micro-wicking towels, rugs, and robes for luxury and clean. Some of my favorite towels are from Macys- Hotel Collection. I also like TJ Maxx and HomeGoods for these items.
Choose Easy to Clean Materials – My idea of a calming, elegant master bath is one that feels clean most of the time. The grey and white is so calming and clean-looking. Since we went with ceramic tile instead of marble, it is much easier to keep clean (than our previous home), in my opinion.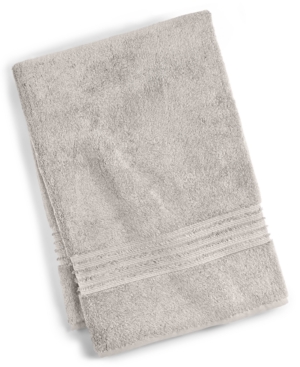 Before…
First, here are pictures from before. The house was built in 1985 and I think this pink tile is original! We weren't huge fans of the fan, the sky lights, not having a separate room for the toilet or really any of the tile. But, the space was great for a master bath and it was a fun project!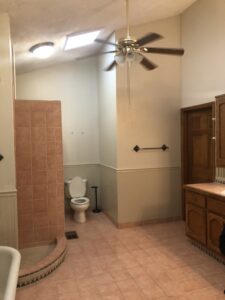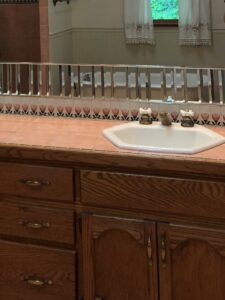 Demolition and Remodel
It was quite a process to tear everything out to the studs, create new walls, level out the floor, smooth the ceiling and walls, move plumbing and electrical some, tile, and paint walls. The demolition was such an incredible mess!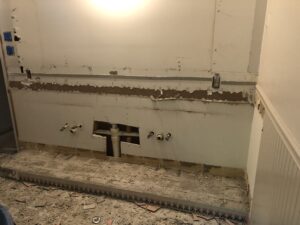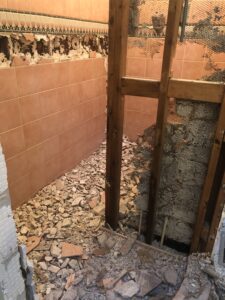 After…
We absolutely love this cost- effective master bathroom! In our previous home, we used grey and white marble, which I absolutely love! But, this room was much larger than our other master and with all of the projects we were doing in order to move in here, we couldn't justify the marble in this room. Instead, we used basket weave marble in a small space in the middle of the floor as a tile rug, and ceramic tile throughout.
The basket weave marble tile reminds me of the gracious bathrooms at the Old Edwards Inn's Half Mile Farm in Highlands, NC. An absolutely beautiful and peaceful place to visit as a couple, I think of that place (and their amazing breakfasts!) every time I look at it!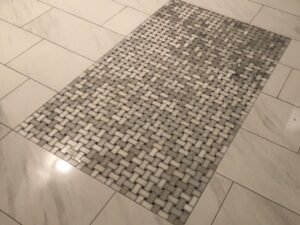 Throughout the rest of the room, we used ceramic grey and white tile, and grey grout. The free standing soaker tub is a favorite, and combining oil rubbed bronze and vintage gold fixtures make me happy! The large double vanity is from Home Depot- it is a solid piece of furniture with marble top that they delivered while we were away and we had to get a crew of guys to get it to the master bathroom space! Incredibly heavy!! I spray painted the pulls oil rubbed bronze to match everything else. I would definitely recommend this version of Rust-Oleum. The coverage is great and it dries quickly and smooth.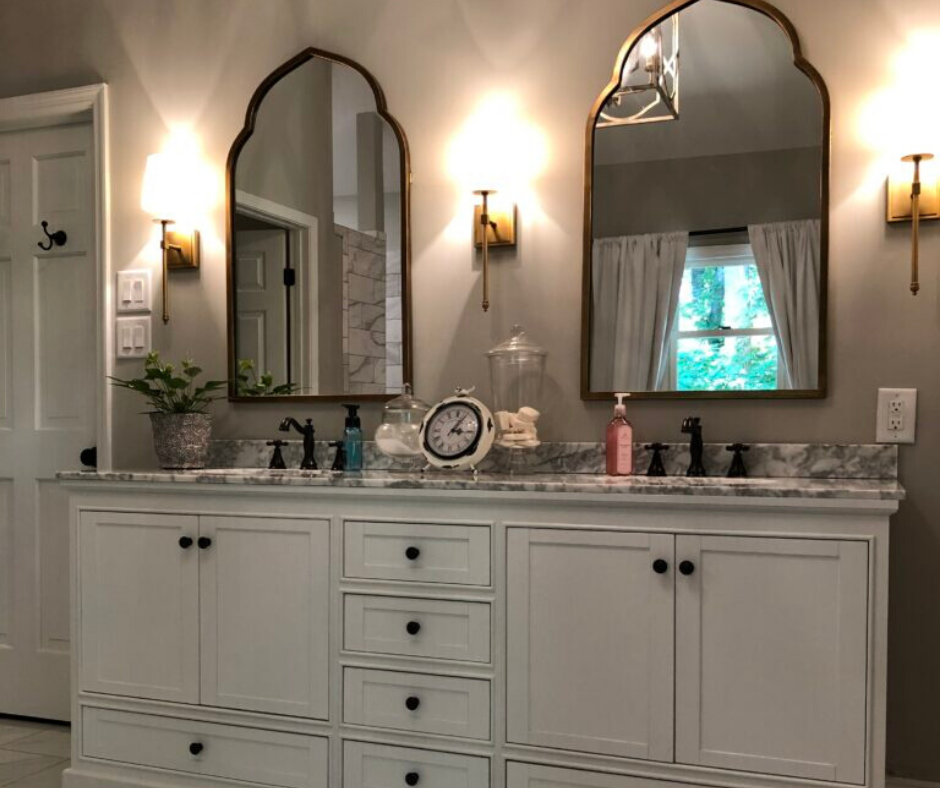 The vanity was a solid piece of furniture at a great price, except that the handles were chrome. Easy fix!
We love the simple monogrammed towels, and the ladder towel rack my son and dad made! The curtains are stand-ins until I make or buy something with better movement, but I like that they are black out, so we are using them for now. This tub is just perfect, and we saved money by buying one with an internal faucet. Many of the free standing tubs require a separate free standing mount filler, which added significantly to the cost of the remodel. We were thankful for this economical tub option.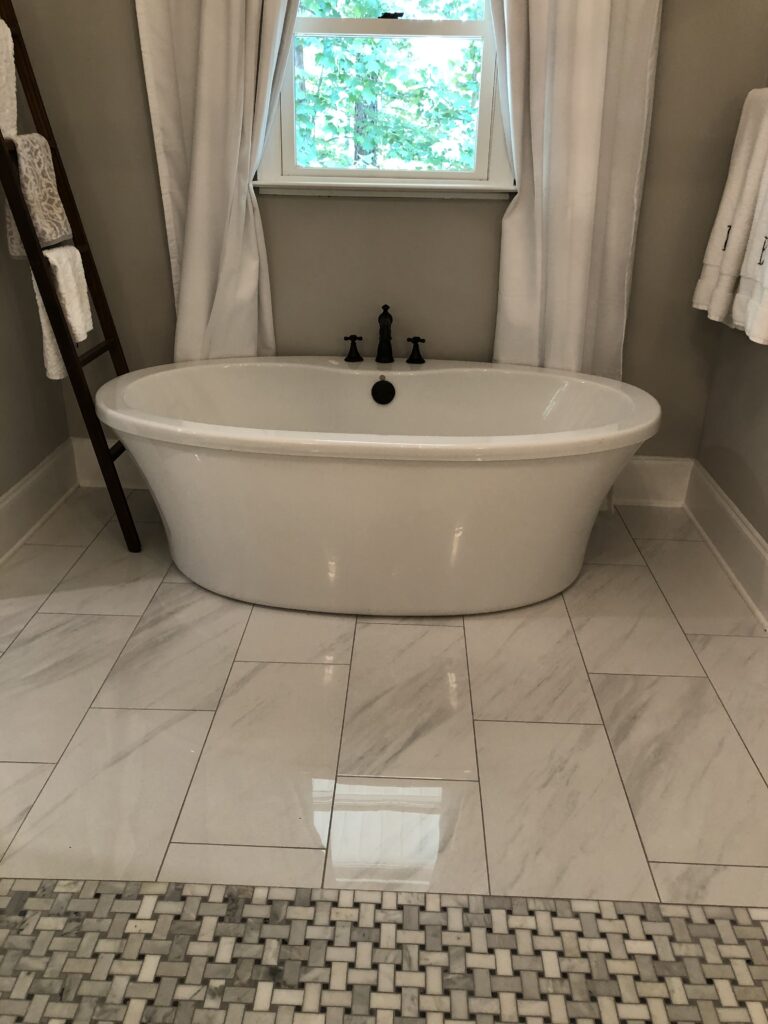 The vintage gold sconces and gold mirrors add that elegance and are a good fit for the high ceiling. The hanging chandelier was a purchase of ours on a trip to Seaside, FL. One of our favorite places to go, we remember the beach and our many trips there when we look up at it!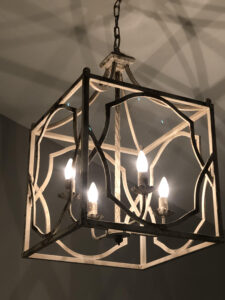 Overall, we are pleased with how this bathroom remodel turned out. I appreciate the calming affect of this room and its simple elegance. I can't wait to share with you the before and after of the other 2 main level bathrooms that we renovated.
Taking on a fixer upper of this magnitude is not for the faint of heart. We are just crazy enough to do it, and love it most of the time! In fact, we often say these days that all of this work is keeping us from going crazy during the quarantine! There is always a project to do! Now you may want to create your master bath retreat! I seriously doubt you will ever regret it. Send me your thoughts/projects at momspriority@gmail.com.