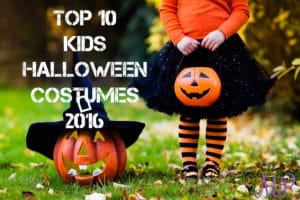 This Halloween, dress your kids to their hearts' content with these adorable, affordable kids Halloween costumes!  So much variety, from traditional costumes like superheroes and princesses to other more creative costumes.  You still have time to order online and have your kid's costume delivered by Halloween if you order soon.  Find affordable options at Kohl's, Amazon, and Walmart, to name a few.
Top 10 Kids Halloween Costumes
According to the National Retail Federation, these costumes are expected to be the top 10 kids costumes this Halloween!  For the  first time, a superhero costume topped a princess costume!   
Action/Superhero 
Princess
Animal (Cat, Dog, Lion, Monkey, etc.) 
Batman Character 
Star Wars Character 
Tie: Witch AND DC Superhero (excl. Batman)
Frozen Character (Anna, Elsa, Olaf) 
Marvel Superhero (excl. Spiderman)
Zombie
Spider-Man 
This one didn't make the top 10, but girls are so crazy about Shopkins!  I think this one is going to be popular on Halloween night!
For more ideas and to shop by size, brand, etc, click on these links to take you to these sites!
---
Advertising Disclosure: Some tips include links where Mom's Priority receives an incentive per click or per purchase.  If you ever have any questions regarding this, please contact [email protected]. For more information, please see our Privacy Policy and Disclosure.