Adorable Baby Shower Gifts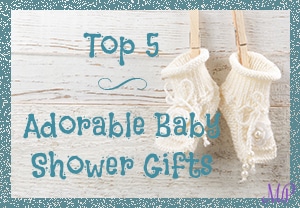 Welcoming a baby into the world is one of the most special moments of life! The excitement and anticipation a mom-to-be feels before the baby is born is just beyond words. Everyone around her can sense that excitement, and the opportunity to shower her with gifts for the baby is special!  Baby Showers are incredible opportunities to love on the mom-to-be.  We've shared some of our favorite ideas HERE.  For the baby gifts, however, we have put together a fantastic list of perfectly adorable gifts.
Kickee pants – These footies are incredibly soft and fleece-lined on the inside, with rubber grippers on the feet to prevent slipping.  Almost organic, Kickee pants are made mostly of viscose from bamboo, with a little spandex for comfortable movement.  Available in a variety of colors and patterns, these footies are perfect for naps and play.  
 RuffleButts – Adorable swim suits, diaper covers, pants, and outfits that are made of comfortable, quality materials.  The bathing suits, like this one, are UPF 50+, and the material stretches .
 Baltic Amber Teething Necklace – Anti-inflammatory, naturally soothing for teething and fussiness, these necklaces would make a great shower gift.  Babies love necklaces to help their gums.  This should be used only under supervision.

Baby Bandana Drool Bibs– These bibs are made of organic cotton so there are no harsh chemicals on the baby's skin, particularly helpful for babies with eczema.  They also have adjustable snaps, so the baby cannot pull them off themselves.  The fabrics available for these bibs are adorable also!

Aden and Anais Silky Soft Swaddle 3 count – These 100% cotton muslin swaddle blankets have so many uses!  Never leave home without them!  They are so soft next to your baby's skin, and can be used as a swaddle blanket, stroller cover, burp cloth, nursing cover, and much more.
---
Advertising Disclosure: Some tips include links where Mom's Priority receives a small incentive per click or per purchase (at no cost to you). For more information, please see our Privacy Policy and Disclosure.