Advertising Disclosure: This post includes affiliate links. For more information, please see our Privacy Policy and Disclosure.
As much as we all want this virus to go away, it isn't leaving fast enough! As you make plans for back to school and other events, don't forget to get a few face masks for your family. If your kids are required to wear them daily, you will want to have multiple.

I am predicting places will sell out again, so I have bought several Vera Bradley face masks for each of us. We also have more masculine masks on hand for the guys like these masks here. We can make them if we have to (hopefully not, because my sewing skills and more importantly, my patience (!) are little), but having one that fits well is so important!
Well- made Face Masks
I purchased these Vera Bradley face masks online and and I am so pleased with them. I don't tolerate anything on my face well but these were surprisingly good. Vera Bradley even created liners to go inside of them. The elastic fits well over our ears, and the size of the mask is great for me. My daughter says her mask is a little too high over her nose, but she loves the Vera patterns. Made from Vera Bradley's soft signature cotton, these non-medical face masks come in a ton of amazing prints and colors. Plus, they're designed with care to be washable, breathable and comfortable to wear.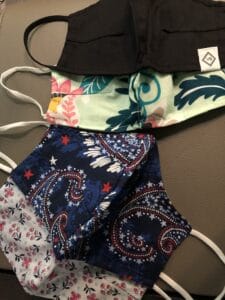 God is in Control
You moms probably agree with me that having everything up in the air is hard to get used to! Nothing is set on the calendar like it used to be, and while I love that freedom in a way, it's also painful! So, we literally have to prepare for multiple plans at the same time. Buying face masks and lots of food is my only way of planning!
As we pray and prepare, wait and see, we remember that God is still on His Throne and He is sovereign over all of this going on in our crazy world! We prepare for this and that, but we stay focused on Him and wait with expectant Hope.
For more products, devotionals, and deals, check out our website Mom's Priority.