---
 Advertising Disclosure: This post includes affiliate links.  For more information, please see our Privacy Policy and Disclosure.
---
Easter is coming soon, and a kids' devotional book  is such a precious gift to give your children!  When you give children a book like this, they have the opportunity to read it on their own time or at a scheduled time, such as in the morning before school or at bedtime.  We use these kids devotional books as a family during our weekly family devotion time.  The Bible stories are clear and concise, written in a way for children to grasp the true meaning behind the story.  Sometimes the Bible stories are sequential, like how they appear in the Bible; other times, they are arranged by topic.  Seeking the Lord for wisdom, help, and love can start young.  A kids devotional book is a great way to train your children to seek God first.
"In the morning, O Lord, you hear my voice…" – Psalm 5:3
We have used a couple of different kids devotional books, though, that we have truly loved.  Here are 5 favorites!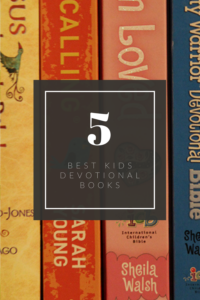 5 Best Kids Devotionals
Jesus Calling for Kids
Mighty Warrior Devotional Bible
Now, as they are growing up a little, I need to find new age-appropriate devotionals for them that are on their way! And we plan to give them these at Easter and get back in the habit again.
Grace for the Moment for Kids
I am Loved
---