Advertising Disclosure: This post includes affiliate links. For more information, please see our Privacy Policy and Disclosure.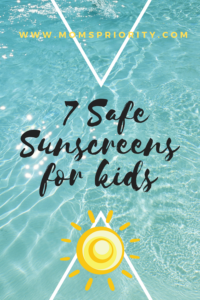 It's that time of year again, time to get outside more and enjoy the outdoors, for our health! At the same time, we know we need to apply safe sunscreen on ourselves and our kids. Is it just me, or do the ingredient lists on the back of these sunscreens we use scare you too? You know there is a problem when my usually non-sensitive kids are complaining of face sunscreen causing their faces to feel burned. I've read about chemicals in sunscreens causing problems with a person's endocrine system, and more research needs to be done. We all need to do our best at determining what's best for our own families.
You may be looking for safe sunscreens because you are planning a trip and your resort is banning chemical sunscreens. I didn't know this until recently, but the chemicals in the traditional sunscreens are being blamed for coral reef disappearances. So, resorts in Hawaii and the Florida Keys especially are beginning to ban chemical sunscreens.
Everything is a balance, and we are all just doing our best, BUT I want to share with you sunscreens we've found that may be a little healthier and more natural. Here is a list of 7 safe sunscreens for you to try.
Disclaimer: I am not a dermatologist or endocrinologist, and am sharing products that have helped me and my family and friends. Please see a doctor for medical advice.
7 Safe Sunscreens to Try
Sun Bum
Alba Botanica Sensitive Sunscreen spray. What's great is that this sunscreen is free of oxybenzone, octinoxate, and synthetic fragrances, and it is an easy spray-on mist.
Blue Lizard. This is a zinc oxide product, so it goes on thick and there is a white residue. It is mineral-based, which means it works and it does not contain oxybenzone and octinozate.
ThinkSport Kids. Free of biologically harmful chemicals like avobenzone, oxybenzone, paraben, phthalates, PABA, 1,4 dioxane, and UV chemical absorbers.
Cera Vie Hydrating Sunscreen. This is a zinc-oxide based sunscreen, without parabens and oxybenzone. Our dermatologist recommended it.
Coola Organic Sunscreen – At $36 a can, this product is more expensive but it smells great and doesn't feel greasy or chemically.
All Good Baby and Kids Sunscreen. This coral reef safe sunscreen uses zinc oxide, but its surprisingly easier to apply than most.
Fun in the Sun Coming Up!
We all have so many fun times to look forward to with the weather warming up, and I hope you take a look at these safe(r) sunscreen suggestions for your family. We could also add to this safe sunscreen list Rodan and Fields and Beauty Counter products. There will always be give and take with the pros and cons of each product and each of us as moms has to make the best decision for our families at the time (and no judging!). Wishing you many fun and safe memories with your family this summer, whether is be at the beach, the lake, or at home in your backyard.
For other posts, encouragement, or to join our community, please visit Mom's Priority.