Advertising Disclosure:  This post contains affiliate links.  For more information, please see our Privacy Policy and Disclosure.  
---
I'm finally ready to share a few stories and pictures of our farmhouse remodel master bedroom project, because there is finally something to show for all the work we've put in! Let me tell you, buying an almost 7,000 foot home that is severely dated on almost 15 acres of land is not for the faint of heart! We have had a good experience so far, for the most part, with only a few snags (!), but only because we are managing expectations (i.e., keeping them LOW for the time being at least!) We are doing some of the work ourselves but we have used set aside funds to be able to hire people to do some things.  You can look at a previous post to see more of the "before!"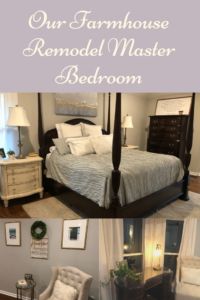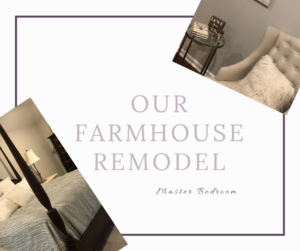 Remodel Project
Before moving in, we were fortunate to be able to stay in our previous home (2 miles away, thank goodness) and have the 3 main level bathrooms remodeled, as well as fresh paint, new hardwood floors, popcorn ceiling scraped, sanded, and painted, all new electrical, and fresh white paint on the exterior brick.  Our timeline for all of this was 2 months, and it was done!  There is plenty we still have not addressed, but this was basic and we are thankful to know some amazing contractors to do this work!  It was a great experience, as few can probably say.  Only because we are in this industry (owning a residential electrical business) and work with great builders who have great subcontractors, is my reasoning- we have been fortunate.   They worked so hard to stay on schedule and exceed our expectations, and I am so thankful.  It's incredibly important to find those good contractors who really care, if you ever do a project like this.  Stressful still, of course, but fun and doable with a great team!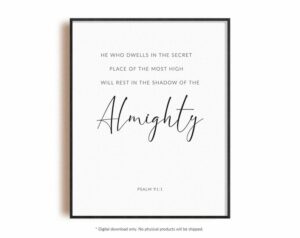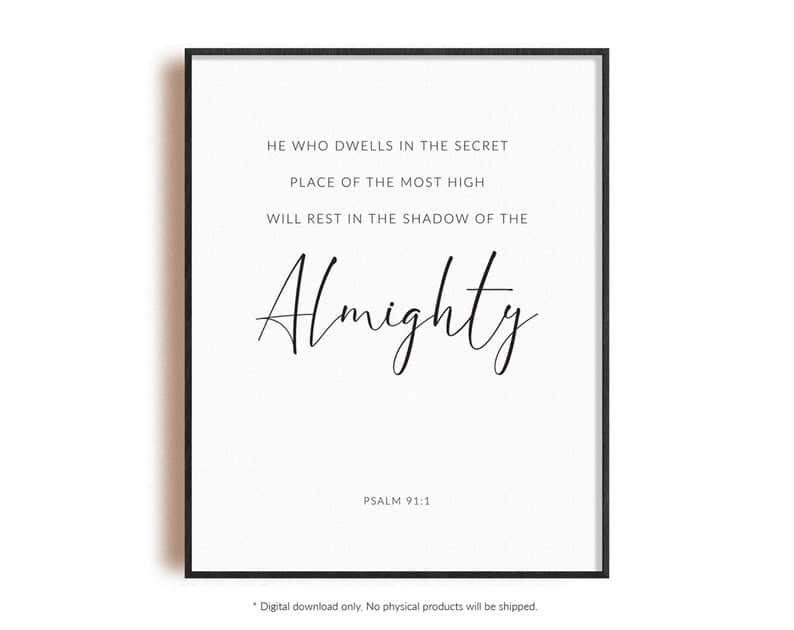 Farmhouse Master Bedroom Remodel
The master bedroom was basic remodeling, but isn't it amazing what a good paint job can do?!  The painters were spectacular.  We initially thought we could do paint ourselves, but quickly learned, after trying to prime and paint all of the wood-stained trim, doors, windows, and pocket doors, that our painting ability was outmatched by the work required.  WELL worth the cost to have it professionally done in this case.  We'd still be painting!  Also the electrical:  Adam and his team did an amazing job adding recessed lighting, removing the outdated cable and phone wires, and installing a fan.  I love the hardwood floors, and how easy they are to maintain.  This master as well as the master bath and closet are spacious, especially for a 1985 ranch.  I am loving this room, and just wish I could get the others together as quickly as this one.   
Here are a few before pictures…
Yes, Adam tried to prime the trim with a paint sprayer before we decided to hire painters.  It was a mess!  We needed professionals who would take the time to tape everything and take the multiple steps necessary for a good paint job!  But look at the popcorn ceiling!  I am loving the smooth ceilings in this house!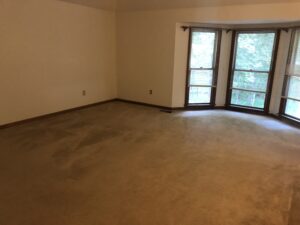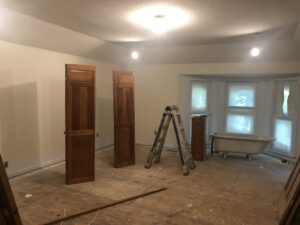 Here is the master bedroom after. 
I love this room.  It is so calming.  This is furniture we've had for years and I love it.  The desk is an heirloom that we recently received and is sentimental.  I hope to find a chair for it soon!  I love to bring in fresh flowers or herbs from outside, and the bay window lets me see out into the shade garden I am working on out there.  It's a work in progress, but this is one room that I feel is almost put together.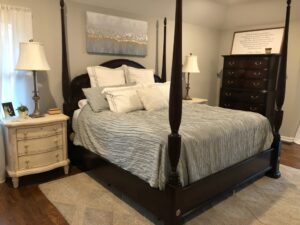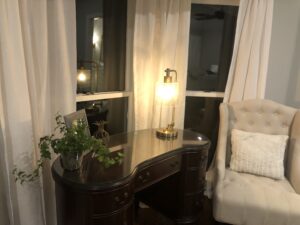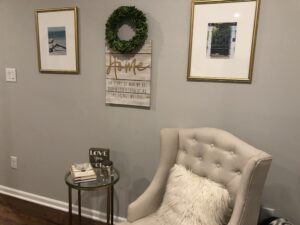 Bringing the outside in is something that just make a room comfortable to me, so I love to bring in flowers, herbs, have a few potted plants scattered around, and a wreath or two. 
Sources
The preserved boxwood wreath above is several years old and you cannot tell!  I take it off the wall probably once or twice a year to spray it with water and it could probably be done more often but it doesn't seem to need it.  This wreath came from amazon.  
The mattress has been transformational for us.  We used to commonly have back aches and I can confidently say the Purple mattress has been the difference for us.  Purple mattresses are expensive, but so worth it for the sake of our health- our sleep and our backs!  You can learn more about them here.  Now, owning a horse farm with so much physical work required, we cannot imagine not having this Purple mattress!!  
The wingback chairs were economical and are from walmart.com if you can believe it!  Walmart.com has an amazing selection of items through the online network or retailers, in home goods and clothing.  
If you're like me, you love to see a remodel to get ideas and inspiration for you own house!  You can follow Mom's Priority's pinterest board named "Décor" for tons of collected ideas!  I'd love to know what you think and if you have any tips, please send them my way.  You can email me at [email protected].  I'd love to hear from you!