Everyone loves a good remodel, right? Since friends have been asking for details and pictures, and Mom's Priority promotes décor items, I am going to do my best to share details on here. We have just purchased a 1985 farmhouse and are excited to share with you the transformation!
Remodeling stories go much deeper than the surface, though. So, I must tell you that this is an answer to many years of prayer. Just the fact that we could financially be able to stay in our current home while we remodel this "new" home (to us) is absolutely mind-blowing to me. We started a new business 3 years ago, and it took our savings (which was supposed to be to buy land) to fund the business in the first years. God tested and strengthened my faith in that time, but I am the first to admit my anxiety during that time was ridiculous and I did not feel full of faith! I am finally stabilizing (ha!) and here we go again. All the time, God is making us more like Him, and He grows our faith through trials. I am incredibly grateful for this opportunity to rebuild this home and make it a refreshing place to live and share with others!
We call it our "farmhouse remodel" because it sits on 15 acres of land and we plan to add horses and its the style I resonate most with. The house is honestly more like a mid century ranch on a basement that all needs a major refresh! As we go along I will use affiliate links to show you exactly where you can find the materials that we are using. I am so incredibly excited to see the transformation that is going to take place.
Demo Day
We closed on it yesterday, and here we are today, ripping up floors and pulling out old brass lights, fluorescent lamps and getting it all torn apart! We've been planning the renovations for the past month and drawing out floor plans the old fashioned way. This house has quite a bit of work to be done. It sat on the market over 2 years, I believe, because the amount needed to get it back up to date is overwhelming to some. But, thank goodness demo started today so we can start looking forward to what it will be! My friend called us "ambitious," aka crazy!! But, we bought it at a good price, especially considering the land in a great area, and we feel like we're ready to tackle this project! Our goal is to finish the main floor work within the next 1 to 2 months and then move in. Let me share a few pictures of the "before:"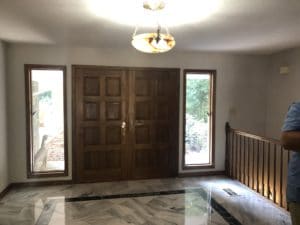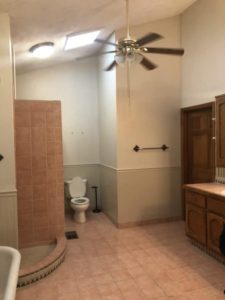 Above, you can see the marble tiled front foyer. People say to not get rid of the marble with green marble inset pattern, but it doesn't go with our look. So, here we are today! Lots of jack hammering!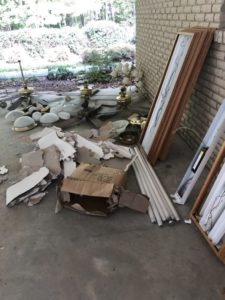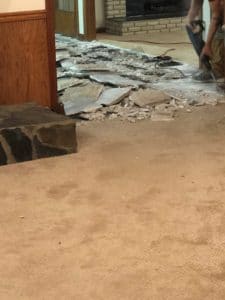 The carpet is coming up, as well as leftover vinyl flooring. Hardwoods are going down soon!