Advertising Disclosure: This post includes affiliate links. For more information, please see our Privacy Policy and Disclosure.
Can you feel the excitement as football season comes near? Whether you are watching the game on the big screen with friends, or in the stadium of your alma mater, football games are a treasured weekend tradition in the south especially. Make sure you are ready with the best clear bags for game day!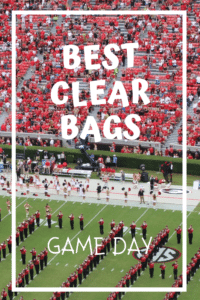 The dress code varies from school to school, but in the Southeastern Conference you can count on women to wear sundresses, boots, stylish sunglasses, and a tote to carry the essentials. In 2017 amid safety concerns, clear bag guidelines were established between the NFL and the SEC (and others, but these are the ones I am familiar with). Now, anything you want to carry inside the stadium must fit inside a clear bag no larger than 12 x 6 x 12 inches, or a clear gallon Ziploc bag! Since we ALL know we have more style than a Ziploc bag (even if you are minimalist) and moms have things we have to have, here are the best clear bags for game day!
This clear stadium bag on Amazon is basic, but incredibly affordable and useful. At $5.99 at the time of writing (click link for updated pricing from Amazon), you cannot beat this deal. If you need a spot for kids' snacks or toys, or your own items, this bag fills the bill.
Vera Bradley has a line of collegiate bags that are so functional and well-made that you can see here, but they also have clear bag options.  This clear bag from Vera Bradley is stadium approved, at 7.5 x 5.25 x 2 in, and is a smaller clear bag for just the game day basics.  

This clear mini bookbag style gets excellent reviews.  At 12 x 11.4 x 5.5 in it is within the acceptable stadium approved range and can hold everything you may need to take in to the game!  
Love this clear Michael Kors bag from Macy's!  Small-sized at 8-1/4″W x 5-1/2″H x 2-1/4″D, it holds your essentials stylishly and effortlessly.  For this and all of the other clear bags, make sure you check our deals page before you purchase!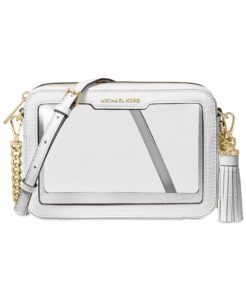 Now for the custom collegiate bags that you are going to love, Etsy comes through!  You can monogram your clear tote, wristlet, or backpack, or choose a college-specific bag.  Etsy has SO many affordable options, there is no reason to go to the game without!  
For $15.99 at time of writing, this clear bag sold on from Etsy is stadium approved at 11.5 x 8.5 and includes monogramming!  So perfect for a college girl or mom attending a game.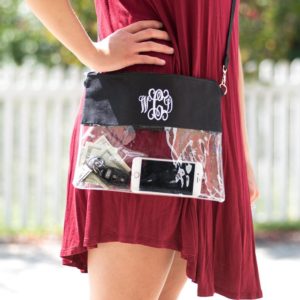 For times when you need to bring in the kids' essentials and more, you need the full size allowed in the stadium which is 12 x 12.  This clear tote on Etsy is perfect for that.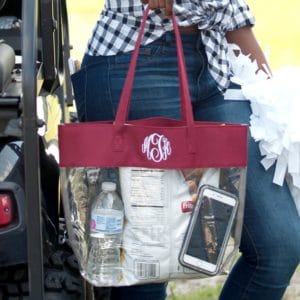 Finally, this clear bag is perfectly stylish for game day, concerts, and whatever else you may need it for.  This clearly classic crossbody from Madly Yours on Etsy is 9 x 5 x 2, so its perfectly sized to be comfortable, but also large enough to hold the essentials.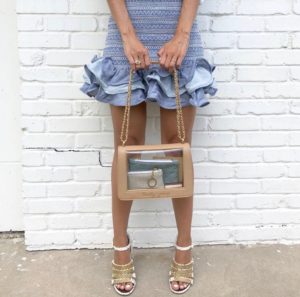 Whether you are the mom who is toting the kids' snacks or just need a place to hold your money, keys and phone, we hope you have found the perfect clear bag for your game day experience!  Subscribe to our newsletter so we can share more relevant, time-saving finds as well as encouragement for you!