Do you have a true friend who ALWAYS knows the best thing to say, who is always listening, who in fact waits for you daily for you to come to him so that he can love you? Who knows you better than you know yourself, and not only that, knows the future for you and everyone else in your little part of the world?
I just had one of these days in this farmhouse remodel that has me discouraged and wondering if we are on the right path. Ever had one of those days? It's really been fairly smooth until now. But, now the internet company is saying they can't install and they don't return my calls… and the hardwood floors we saved for and just had installed have issues.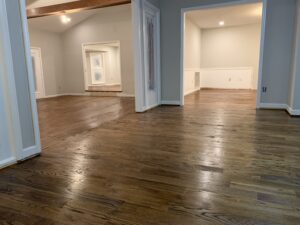 American Problems
Silly, right? I see the countries that my audience are in, and I know these are silly American problems in light of what's really important in the world, among the world's hurting. 91 nations represented, and 57 different languages on Mom's Priority, according to Google Analytics. Wow, how do you speak to such a diverse audience? But I digress.
God still Cares
I realize that these issues are trivial, but here's the amazing thing: God still cares and wants to be there for us, even when it seems silly. When it matters to us, it matters to Him. Luke 5:1-11 talks about Peter catching a miraculous catch of fish because Jesus provided. In this example as well as so many others in the Bible, Jesus shows His love by providing. He wants to be in the middle of our lives. He cares about our lives and wants to help us in our daily activities.
True Friend Encouragement
And I just experienced that fresh tonight. I'm worn out and discouraged, and it's midnight, and God meets me, on the pages of His Book. In the book of Nehemiah, chapter 4 he responds to Nehemiah who is discouraged and overwhelmed with the large task of rebuilding the wall and he says, "Remember the Lord, who is great and awesome." Just like that, I am thankful and encouraged once again. He has a plan for what we are going through; what we ultimately chose- He will use for good! And His plan for this house, to encourage and refresh the hearts of the saints- is good and God is worthy to be praised in it!
Your situation in your corner of the world may look very different on this day than mine does on this day! But if you gain nothing else on Mom's Priority, I pray that you know that you have a best friend who is waiting for you, even if you've never reached out for him before. He is waiting for you and His name is Jesus. He will always be there and he will always want your best. You need to believe in Him and call on Him.
I heard this song this morning and it reminded me of this post: The God who Stays by Matthew West. I pray that you will always know the One who has endured everything for our sake, and who will always be a true friend.