Advertising Disclosure:  This post contains affiliate links. For more information, please see our Privacy Policy and Disclosure.
---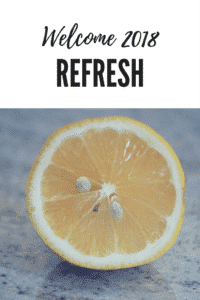 A word of the year is typically not my style, but starting out 2018, I feel like the word "Refresh" is appropriate.  A new year is not about starting over; its about continuing what you've already started, but with refinement.  You take what you have and improve.  You take your habits, skills, mindset, home, body, etc and tweak them to be the best "you" you can be.
Making Yourself A Priority
For me, this year I am focusing more on myself than in years past.  As a mom, it's easy to neglect ourselves while taking care of the immediate needs of our children.  For a season, it can be necessary.  Babies require so much time and care.  Add in work and other home and family responsibilities and time for yourself is scarce.  But, only for a season!  As my kids continue to grow, I realize that I have to be the one to make myself a priority.
This past fall, we bought an elliptical machine (that I love!).  As a family, we are not fitness buffs;  exercise, outside of household chores that had to be done and playing sports and being outdoors for fun, just wasn't a priority.  We bought the elliptical for me, primarily.  It sounds ridiculous, but when I first started exercising on the elliptical, I thought my heart was going to jump out of my chest!  I'm not what you would call overweight, and I couldn't believe how difficult it was!  But, as time has gone on, it's become easier.  Believe it or not, I actually look forward to that time on the machine now!  I do cardio, either on the elliptical, out walk/jogging with a friend, or to a video, and then toning exercises, at least 5 days a week.  We get this one life and one body, and how we take care of it matters.  Refreshing my routine this year is a priority for me.
Refresh Your Routine, Your Mind, and Your Wardrobe
At some point, you have to make yourself a priority.  I encourage you to carve that time out for yourself each day; don't give up, and in time, you will appreciate it.  This  year, my health focus is just refreshing my routine to make sure it doesn't get stale and eating healthier.  Mentally and spiritually, my quiet times and time to read books is important.  Also, how we dress is also important.  As moms, we can neglect ourselves, but this year, I will be refreshing the wardrobe more than usual!  Clothes can make you feel good about yourself, as cliche as it sounds.  I am frugal to a fault, but I value looking nice when I'm out.  Cleaning out the closet and making good investment clothing purchases… this is a priority this year.
Refresh Your Home
Finally, refreshing the home is on my mind this new year.  As we take down Christmas decor, the simplicity and lack of clutter is refreshing in itself.  But this year, we plan to give our well-loved home of 14 years a refresh!  I believe having inspiring decor and items you love around you make life richer.  While frugality is my default (evidence: saving money), now is time for us, personally, to make a few investments and refresh our home.  I plan to take this one room at a time and post pictures on here as we make changes.  This year for me, welcoming 2018 means to refresh, inside and out.  So, I'm investing in myself and my home, to best live my priorities.  What are your plans for 2018?