Advertising Disclosure:  This post includes affiliate links.  Please see our Privacy Policy and Disclosure for more details.
---
After all of my praise of Walmart, I am disappointed to share my experience with Walmart price increases online.  Have you noticed how Walmart offers two prices now on their website for grocery items?  The online price and the in-store price.  I knew it was a great possibility, but was so excited to be able to do the bulk of my shopping online this past year that I tried out Walmart online.  Now that prices are increasing online, I need to review how I shop in order to save money and time for our family.  I share with you today so you can be aware and do the same.
We are all looking to make the best decisions for our family, to make the most of our time and money.  Here is what you need to know about the Walmart price increases online.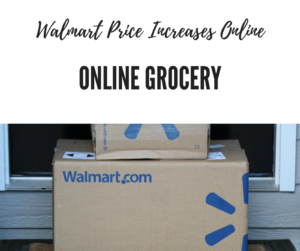 Higher Online Grocery Prices
Walmart is testing out different online pricing strategies in order to make their online operations profitable.  Right now, it seems they are charging around 20% more for groceries ordered online and delivered to your door.  A few months ago, you could receive the same products for the same low prices you received in stores.  I've confirmed this from a report from the Wall Street Journal.  For example,
This 30 oz box of Pepperidge Farm goldfish is $8.45 for 2 day shipping to your door.  It is $7.18 in the store or if you pick up at the store today.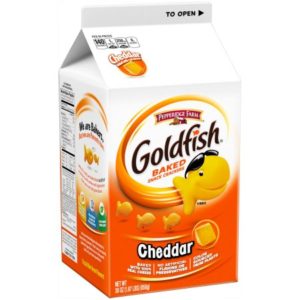 It makes sense for their business to do this; but, as a customer, I enjoy receiving Walmart packages to my door with no extra expense or effort- who doesn't?!  Walmart is now pushing sales of items $10 and up through its online site, per this article from cnbc and others.  As 2018 progresses, you can expect to see a shift in affordable items at Walmart.com.  All of the online grocery suppliers are making shifts, though, as this market evolves.  As for us, we have to be aware of these changes and pay attention to prices so we can keep our priorities.

Two Prices to Choose From
While previously the prices were mostly the same in-store and online with delivery, now you can choose to pay the premium to have the item shipped to your house.  The price is significantly more, around 20% more in my experience.  However, you are not also paying shipping, as long as you spend $35 or more, so depending on your needs, you may still choose delivery.

A Third Option for Walmart Grocery
Originally, you shopped in stores for all groceries.  Over this past year, you have been able to shop online and have items delivered to your door.  Now, a third option is becoming more popular:  Online grocery ordering and curbside pickup.  This third option has become more popular (although my location almost always has plenty of availability for pickup times).  You receive the lower in-store price (currently, to my knowledge)  and you can make complete grocery trips including refrigerated items.  Who knows, however, how long this option will keep the lowest prices, though.
More Options with Competition
As we're all aware, we have many options to order groceries through these days that are convenient for busy moms.  From Amazon's wide offering, to Publix and other grocers offering the Instacart delivery service, to Kroger's Clicklist, and others like FarmFresh, we have many options.  Read my review on the best prices for online grocery here.  But, none of these options is perfect or meets all of our needs.  We just have to choose the best option available for us.  According to the WSJ article mentioned above, Walmart is seeking to drive customers to its physical stores.  But, what if we don't want to go inside?!!  My day is much more peaceful without a Walmart trip!  As I'm sure yours is as well.
With Walmart price increases online, it is difficult to form consistent shopping habits.  What are your thoughts on online grocery?  Is it something that you currently do, or plan to do in the future?