Doctors visits for free sounds crazy, but it's true! Here's our story: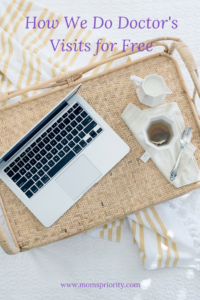 Our Story
My kids have both had strep throat recently. It has been going around their school and although we were healthy all year, it finally caught us. The good news is it didn't cost us anything! We were able to make an appointment for a phone consultation with MDLive, the company that Medi-Share partners with, each time and consult with a doctor immediately! No cost for the appointment, or for the amoxicillin that we picked up within the hour from the pharmacy. Our kids were back to no fevers within a day, and we continued through the antibiotics for 10 days. Life changing!! Read below for more details, and for all the ways we are saving on insurance, read HERE.
Virtual Doctor's Visit
Thankfully, we can do doctors visits for free with Medi-share's Telehealth program. With Medi-Share we were able to "see" a doctor immediately virtually with their tele-health program. You can review the available doctor's certifications before selecting your preference among those available. They were able to diagnose and treat our issue and prescribe medication to our local pharmacy…immediately!
For the germaphobe that I am, this was such a nice change. No germy waiting room. No waiting. We didn't even have to leave the house! The best part: it was free! NO cost to see a doctor; this is included in our membership to Medi-Share. I am not receiving any kind of commission for sharing this info; I just think it's too good not to share! This does not replace our regular doctors, and they will send the records to your doctor's office if you wish. This virtual service is very helpful, though, in these situations, and saves us a ton!
Sharing to Help You Live Your Priorities
If you are looking to save money on insurance so you can live your priorities, I highly recommend Medi-Share. I think it's a great service that is helping many people when health care is otherwise unaffordable. We have saved a TON on insurance costs this year (thankfully, and fingers crossed), so I highly recommend you reading this page. Our auto and home insurance changes have been life-changing as well! Save money on these expenses, so you can live your priorities!