In order to achieve farmhouse style, a casual farmhouse wreath or two- or five!- is a must! Wreaths are a casual way to decorate your home in farmhouse style.
---
Advertising Disclosure: This post includes affiliate links. Please see our Privacy Policy and Disclosure for more details.
---

5 Farmhouse Wreath Styles
Olive branch Farmhouse wreath
I love this wreath because it looks real and it's affordable!  This particular one is from Amazon, and we now have it hanging on a side exterior door.  For the price, you can't beat it.  It still looks great and has held up for many years in all types of weather.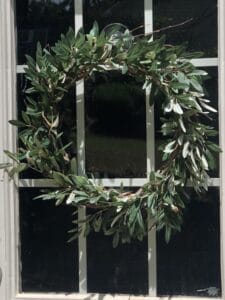 Magnolia Farmhouse Wreath
A magnolia wreath is the quintessential southern farmhouse wreath!  We planted a magnolia tree years ago when we moved in, and I am proud to say it finally has an abundance of beautifully fragrant flowers.  It seemed like it would never produce flowers!  I absolutely love it in the corner of our yard and so do the bus stop kids (including our own); they love to climb on the tree's sturdy branches!  I haven't mastered preserving the leaves and flowers long term, though, so I still depend on a purchased wreath.  This magnolia wreath from Hobby Lobby is a great alternative to last for years to come. (wait until it's 50% off or use a coupon on our Deals page for 40% off!)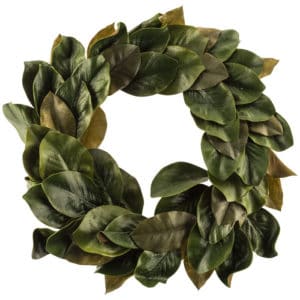 Boxwood Wreath
I have this preserved boxwood wreath hanging over our Kohler sink in the kitchen, and I love it!  It is very well-made, arrived perfectly, and is lasting.  I am spraying it weekly with water, because it is made of real boxwood cuttings.  The boxwood wreath is perfect for farmhouse décor.  This particular wreath is from Mud pie.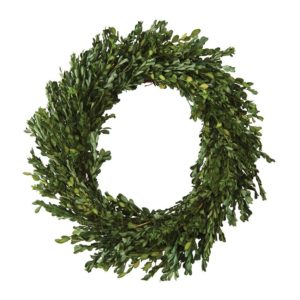 Moss Letter
This moss letter is not exactly a farmhouse wreath, but it still fits into the same category.   I list it because it is perfect for farmhouse style and would be an elegant addition to your home!
Cotton Wreath
Finally, the cotton wreath is definitely farmhouse style.  It is relaxed farmhouse décor and perfect in a bedroom or on a gallery wall.  Ours has held up for several years now.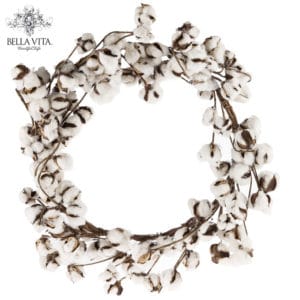 Whether you are looking to adorn a front door or a gallery wall, these farmhouse wreaths are all beautiful, yet timeless styles that you can enjoy for years to come.  These particular wreaths are proven to last, make a statement, and are at great prices.