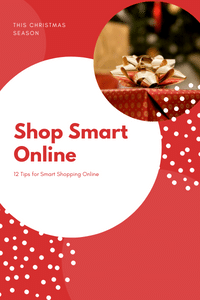 This is a post that someone needs to read; it may be you! With online shopping surpassing in-store retail shopping this Christmas (source: Deloitte), more than likely, you are planning to shop online. Online Christmas shopping is wonderful and convenient (usually) and can save you time and money. And at Mom's Priority, we want to help make it easier for you!! But, you need to know how to protect yourself and how to spot dishonest merchants and criminals. As a fellow mom, I feel I need to make you aware of warning signs and help keep you all safe online! Shop smart online this Christmas season with these tips.
12 Tips for Smart Shopping Online:
Shop through reputable companies
Who are your buying from? Ensure websites are legit by googling them if they are not a large, well-known company. See who they keep company with. Just like we tell our kids, who they relate with says much about them! While this isn't 100% proof, this little bit of research may end up protecting your personal information.
Only enter your personal information, credit card number, or otherwise on secure websites
Recently, Google made the announcement that they are going to penalize websites that are not secure in Google search. One way you can tell the "real" sites from the others is that green padlock and the "s" on https:// preceding their website name. Always, always, only give your credit card info on sites that have that AND ALSO meet the other criteria listed here! That green padlock says the site is secure and uses encryption so your credit card information cannot be easily stolen as data is transferred over the web.
Shop Online with a Credit Card
In order to shop smart online, using a credit card (vs a debit card) is a must. If someone were to get your debit card information, they could wipe out your savings and you have little recourse. Most credit cards have protections included in case your card is lost or stolen. Remember, the credit card number, expiration date, and security code are just as good as having the card in most cases. So, protect that information! Credit cards are much safer for shopping online. You can dispute unauthorized charges and let their fraud protection team investigate. Debit cards are not good for online shopping.
Shop on Secure Internet Connections
Public wi-fi is not appropriate for buying online or checking your bank account. You can SHOP all day long on public wi-fi, but don't put your personal information in to buy until you are using a secure internet connection.
Never reply to emails requesting that you enter your credit card information on their site. Instead, go directly to the site when in doubt. This season already, reports indicate a scam where the sender claims to be Amazon. The email says your order cannot be processed because your credit card information is incorrect. They tell you to click on the link to take you to "Amazon's site" and reenter your info so your order can be processed. Do not go to their site that even looks like authentic Amazon! Because, they are stealing your credit card info as you enter it for them. Instead, go directly to Amazon's site and look at your orders to verify their claim.
If it's Sounds too Good to be True, it Probably Is!
It's not fun and takes the buzz away from shopping (haha!), but it is important that before you click "purchase" you read the fine print! Know the policies of different retailers (which, you learn after shopping a couple of times!). For example, Amazon orders can be returned at Kohl's now. Most online stores that also have brick and mortar stores allow you to return the items with no penalty at their physical store. However, some returns incur restocking fees or shipping fees at your expense. Know how long you have to make a return. It's your job to know what you are getting into when you make the purchase.
Along the same lines, check out websites' privacy policies in order to protect your personal information. Websites should have an easy to find privacy policy (usually at the bottom of the website) that addresses how your information will be used.
Clear Your Cache/ Cookies Often
If you're not familiar with these terms, basically, go to Internet Options, then Clear Browsing History frequently. What merchants do is store your info and preferences to keep page load time down and get to know you in a sense. Pages are tailored with you in mind. While that is generally not a problem, it is beneficial for you to clear it on occasion.
Keep Your Computer/Phone Software Up to Date
New viruses and malware come out every day. The only way to protect yourself and your machines is to keep the software up to date. You need firewall, anti-virus, and anti-spyware software installed and running. When they update, you need to update if it's not done automatically behind the scenes to make sure you are protected. Run virus scans regularly and make sure you install the latest updates.
Keep an eye on packages arriving to your door. At Christmastime, there is an increased risk of theft anyways. This also includes delivered packages.
You can either print a receipt or make sure you received the email that tells what was purchased and when delivery is expected. That way, if you have any discrepancies or need to return, you have documentation.
Shopping online is convenient and quick, as long as you're dealing with honest merchants and secure websites. You can save a ton of money by shopping online this Christmas, and Mom's Priority has a variety of ways to help you do that. Please stay vigilant as you shop online to protect your identity this season, and if you have any questions, please email me at [email protected]. Happy shopping!!
Mom's Priority Wants to Help You Save Money and Time This Christmas Season! Here are some of our most popular links: